PROVIDING FINANCIAL SERVICES AND SUPPORT
PROVIDING FINANCIAL SERVICES AND SUPPORT FOR PROJECT-RELATED ENTERPRISES
Through its extensive network, FCSSC can help projects to apply for different sources of funding offered by international organizations and related governments. Such blended finance model contributes to the finance for South-South cooperation projects, while creating opportunities for private sector investors to general sustainable and social returns in developing countries.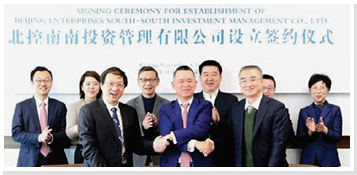 Together with Beijing Enterprises Water Group, FCSSC established the "BEWG South-South Investment Management Co., Ltd.", focusing on the financing of water environment projects.
ESTABLISH SOUTH-SOUTH COOPERATION FUND FOR "BELT AND ROAD" INITIATIVE
FCSSC makes full use of Hong Kong's status as an international finance center to leverage and mobilize capital towards South-South cooperation projects through means of establishing public and private funds and engaging in equity investment.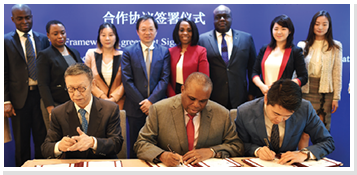 FCSSC and the African Export-Import Bank jointly launches the "China-Africa South-South Cooperation Fund" with the size of US$ 1 billion and initial tranche being 100 million.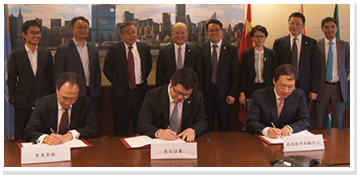 FCSSC with Everbright Securities International and Oriental Patron Financial Group jointly established the "Belt and Road" Fund, with the size of the initial tranche being US$ 200 million.
CO-MANAGING THE "UNSIF-SOUTH-SOUTH COOPERATION FUND"
On the 25th of May 2016, FCSSC officially signed a Memorandum of Understanding with the UNDP SDG Impact Finance (UNSIF) to collectively establish and manage the "UNSIF-South-South Cooperation Fund", as a way to support and guide social capital towards sustainable development investment projects.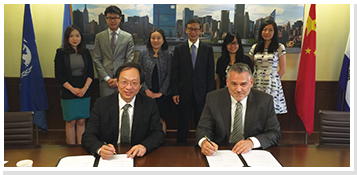 FCSSC and UNSIF signed a Memorandum of Understanding in May 2016.
The United Nations Social Impact Fund is a 'blended financing' platform where a new breed of social entrepreneurs, development financiers and private sector investors collaborate to leverage grants with market capital to produce sustainable social, environmental and economic returns.