GREEN INDUSTRIAL PARK
PROVIDING DEVELOPMENT POLICY CONSULTATION TO DEVELOPING COUNTRIES
The FCSSC invites experts from successfully developed countries and international organizations to provide specific and pertinent advice on development strategies to developing countries, considering their various underlying conditions. The focus of these measures is to help countries formulate industrialization strategies and policies, to recognize and analyze competitive industries, and to identify gaps in development.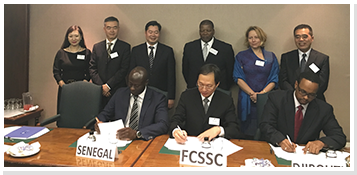 During the Forum on China-Africa Cooperation in December 2015, the FCSSC signed a Memorandum of Understanding with the governments of Senegal, Djibouti, and Nigeria to promote industrialization and facilitate economic development.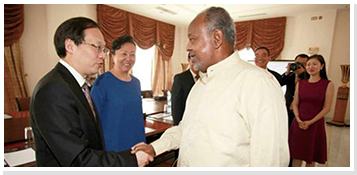 The President of Djibouti received Dr. Wu Zhong, the Director-General of the FCSSC, and others working on the project.
HELPING TO LAUNCH INDUSTRIAL PARKS IN DEVELOPING COUNTRIES
The FCSSC offers a landing platform for international production capacity cooperation. For instance, the FCSSC not only helps developing countries design the launch of industrial parks but also organizes professional teams to analyze industries so as to identify the competitive advantage of a certain developing country.

The blueprint and preview of Djibouti industrial park
HELPING TO DRAW FOREIGN INVESTMENT
The FCSSC also helps developing countries to be connected with China and other emerging economies, so as to introduce industrial projects especially labor-intensive enterprises, increase employment opportunities and promote industrialization through specific investment projects.
Promoted by FSCCS and the Made in Africa Initiative (MIAI) RDB and Henan Civil Aviation Development & Investment Co. Ltd. (HNCA) signed a strategic cooperation agreement.